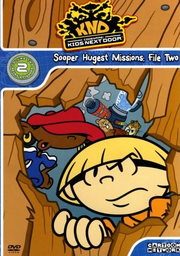 Sooper Hugest Missions: File Two is the second DVD of Codename: Kids Next Door episodes, released in 2005.
Back cover description
The KND are back in some of their biggest missions ever!
The Kids Next Door are on a never-ending mission to make the world a better place for kids everywhere. Building vehicles and gadgets out of whatever they can find using their 2x4 technology, these 10-year-old operatives are ready to face down whatever stands in their way. Join the revolution. Check out the KND's latest KND with some of their greatest challenges ever! With Codename: Kids Next Door, either you're in, or you're old.
Contents
Episodes:
1. "Operation: C.A.N.N.O.N."
2. "Operation: C.A.M.P."
3. "Operation: C.H.A.D."
4. "Operation: S.H.A.V.E."
5. "Operation: T.R.I.P."
6. "Operation: T.R.A.I.N.I.N.G."
7. "Operation: D.A.T.E."

Special Features:
Trivia
Community content is available under
CC-BY-SA
unless otherwise noted.