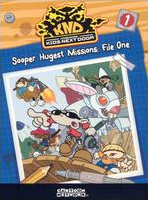 Sooper Hugest Missions: File One is the first DVD of Codename: Kids Next Door episodes, released in 2004.
Back cover description
This Club's Treehouse Ain't For Sleepovers!
The objective of Codename: Kids Next door is simple — to lead young people everywhere in the fight against the injustices of a not-so-kid-friendly world! From the fortress of their treehouse headquarters, this covert team of 10-year-olds uses their patented 2x4 technology to put a stop to anyone who gets in the way of their mission. So hurry and join the KND revolution... the secret's out, are you in?
Contents
Episodes:
1. "Operation: I.-S.C.R.E.A.M."
2. "Operation: P.I.R.A.T.E."
3. "Operation: L.I.C.E."
4. "Operation: L.I.Z.Z.I.E."
5. "Operation: T.H.E.-F.L.Y."
6. "Operation: C.A.T.S."
7. "Operation: S.P.A.N.K."
8. "Operation: S.U.P.P.O.R.T."
9 & 10. "Operation: G.R.O.W.-U.P." (parts 1 and 2)
Trailers:
Cartoon Network Halloween: Creepy Cartoon Capers DVD
Cartoon Network Christmas DVD
Kids Next Door Game Boy Advance Game
DC Comics Kids:

Teen Titans: Divide and Conquer DVD
Static Shock: The New Kid DVD

October Superheroes:

Justice League: The Brave and the Bold DVD
Batman: The Animated Series: Secrets of the Caped Crusader DVD
Superman: A Little Piece of Home DVD

The Batman (2004-2008 series)
Special Features:
2x4 TECH S.P.E.C.S.
Exclusive KND Game Boy Advance Cheats
Cartoon Network Bonus Toon: Foster's Home for Imaginary Friends — "House of Bloo's"
Community content is available under
CC-BY-SA
unless otherwise noted.