"Attention fugitive agent. There is no hope for escape. Surrender immediately!"

– Numbuh 99 to Numbuh 1 in Operation: E.N.D.
Numbuh 99 is a member of Numbuh 86's Decommissioning Squad.
History
He was first seen in Operation: E.N.D.; Numbuh 86 had received orders to decommission Sector V and brought a team to capture Numbuh 1. When the capture turned to a chase, Numbuh 99 was stationed further up the river with Numbuh 51 and others to stop him, but failed. While chasing Numbuh 1, Numbuh 86 yelled to Numbuh 59, "I hope Numbuh 99 isn't as dumb as you!", just before their ships crashed into each other. Following the crash, he switched over to a D.O.H.-D.O.H. and continued the chase and finally confronted Numbuh 1 outside the Sector V Treehouse as part of Numbuh 86's troop. After he escaped yet again, they cornered Numbuh 1 and Sector V in Numbuh 274's office on Moonbase and learned of Numbuh 274's betrayal. The whole squad panicked when Numbuh 274 launched Moonbase towards the Sun and imprisoned him after Sector V managed to return the treehouse to the Moon.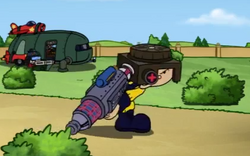 He was next seen in Operation: G.R.A.D.U.A.T.E.S., where he was one of the operatives to be strucked by Father's Animalization Ray and did not make it to the Moonbase for the second attack.
In Operation: I.T., the whole Decommissioning Squad attended the global meeting at the Kids Next Door Super Convention Center and ran away when the game of tag was initiated. He later returned on a D.O.H.-D.O.H. along with his squadmates when Numbuh 86 tried to have Father decommissioned, but failed because he changed the rules about decommissioning Supreme Leaders.
He was last seen in Operation: T.R.E.A.T.Y. up on the KND Gihugeacarrier during the signing of the treaty with the Teens. He was rendered incapable of defending himself when The Steve played a super loud rock song to break the truce, but got up and fought the teens once Numbuh 1 and Chad accidentally stopped the music.
Community content is available under
CC-BY-SA
unless otherwise noted.