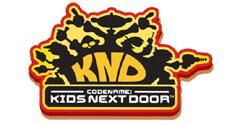 Either you're in, or you're old.
Welcome to the KND Code Module, the gihugeic Codename: Kids Next Door Encyclopedia. The encyclopedia contains 1,780 articles, 15 categories and 6,764 images at this moment and growing! Please refer to the Community Portal and MOS for rules, regulations and content needed. To keep our wikia looking professional, we suggest you also check out our Neutral Point of View page. If it's your first time using a Wiki refer to the Help Page.
ATTENTION: We are currently in need of all the help we can get. So we advise everyone to pitch in and help editing. Even if you're not very good with articles. You can still find a way to help somehow. Thanks and have a nice day!
If your editing under an IP. We do advise you to "make an account". We always can use new users! ;)
Please view our Community Portal for a list of things we need help on!
We are now affiliated with the Wiki.
We are now affiliated with the Wiki.